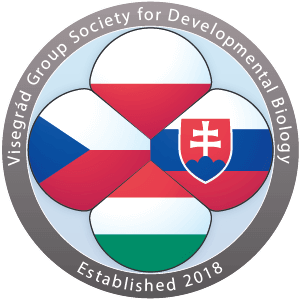 Societies for Developmental Biology are non-profit scientific associations active in many Western European and non-European countries, plus pan-international. They promote the functional integration of researchers working in the field of developmental biology by facilitating the exchange of knowledge and experimental methodology, the establishment of cooperation in active research, and professional networks.
Until 2018, despite all these advantages, no such societies existed in any of the four Visegrád Group countries (CZ, PL, HU, SK). Therefore, the "V4SDB" was established to provide the missing forum to foster more efficient and integrated research in developmental biology across Central Europe, according to established societal precedents found elsewhere in the world. Although the majority of V4SDB members recruit from V4 residents, the society is open to members from other countries.
V4SDB is responsible for organising and hosting a flagship biannual meeting to draw together a wide spectrum of developmental biology researchers from across the Visegrád Group countries, and potentially beyond, to assimilate the most recent and fundamental insights into the cellular/molecular mechanisms of development, stem cell biology and the newly emerging knowledge connecting development and disease.
V4SDB belongs to the
International Society of Developmental Biologists
. Therefore, V4SDB members are entitled to fee discounts not only for V4SDB but also for ISDB meetings.
Please, check the V4SDB website for more information:
https://www.v4sdb.org/